Kombat Federation Club Gi (Child)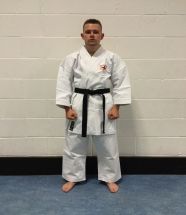 Kombat Federation Club Gi (Child)
All payments are completed via Paypal. You 
DO NOT
 need a paypal account.  If you do not have a paypal account, select "Check Out as a Guest" and you will be able to pay by card.
Ideal suit for general club training and competition for both Kata and kumite particularly for our younger competitors. Embroidered with Kombat Federation on the left breast. Supplied with two pairs of trousers, one Japanese cut (Kata) and one European cut (Kumite).
Gi Size Chart
0 - 130cm - 5 to 6yrs 
1 - 140cm - 7 to 8yrs 
2 - 150cm - 9 to 11yrs 
3 - 160cm - 12 to 14yrs 
4 - 170cm - 15yrs +
5 - 180cm - 16yrs +
6 - 190cm - 16yrs +
If you are not sure of the size ask your own club instructor, they will be able to give advice on the size of suit needed.
Please allow up to 3 weeks for delivery. All purchases will be passed on via your club instructor.